Bella B Skin Care Products Review
The Bella B skin care line is designed to provide luxurious moisture for skin all over the body. The Bella B natural line includes a full range of stretch mark prevention and fading products, firming and control cream for cellulite and a revitalizing moisture solution for tired legs and feet.
Mother's Intuition History
Concerned about the likelihood of developing stretch marks during her pregnancy, the founder of Mother's Intuition set out to find a solution. She discovered that keeping skin well moisturized could prevent the marks from occurring and could also keep her skin from itching. As her Tummy Honey stretch mark prevention formula found fans and a big market, she expanded her line to include a cream that treated existing marks and then into a full line of natural body care products.
The company utilizes safe, natural and hypoallergenic ingredients to create products that are pleasurable to use as well as effective. Bella B skin care products have no petroleum-based ingredients, mineral oil, lanolin or artificial preservatives.
Tummy Honey Stretch Mark Products
Tummy Honey prevention products work by keeping the skin as moist and elastic as possible, thus preventing the damage that can occur when it undergoes strain from stretching. You may be wondering... once you've got them, is it possible to remove stretch marks with a cream? Even if you can't completely get rid of your stretch marks, Tummy Honey from Bella B skin care can help you reduce the appearance of your stretch marks. How? Darutoside (a natural plant extract) has been clinically proven to help fade stretch marks and it is a key ingredient in this cream. It also works to improve the appearance of scars, so it is not just for women seeking a stretch mark fix.
The Tummy Honey line includes:
Tummy Honey Stick: Convenient, portable moisturizing stick
Tummy Honey Butter: Luscious body butter for intense moisture
Tummy Honey Cream: Silky cream for prevention and fading
Tummy Honey Review
While I discovered this skin care line too late to prevent stretch marks, I have been using it on my existing ones. I haven't used it for the recommended eight weeks yet, but I will say that my skin looks better after only a few weeks. Are they gone yet? No...but they have improved and my skin feels awesome. The cream is a pleasure to use with a light and pleasant scent.
Other Bella B Skin Products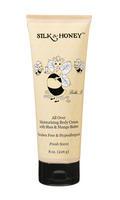 Just need some great moisture? Mother's Intuition offers a Silk & Honey moisturizer for all-over use. I found it light and non-greasy, mildly herbal in scent. It leaves skin feeling soft and well-hydrated.The Body Buzz cream in the same line is a slightly heavier moisturizer, and claims to help firm the skin and reduce visible cellulite. Again, I have not used it for the recommended time period, but it certainly feels lovely and I will happily keep using it.
Tummy to Toes is a hydrating cream intended for legs and feet. Its revitalizing effects come without the strong menthol scent found in many similar products.
What's New?
Two of the newest offerings from Bella B skin care are designed for nursing mothers. The company's new nipple care line includes Nipple Nurture Butter and Nipple Nurture Cleansing Pads.
Also new from this innovative firm are an eye cream and a bleach-free cream for lightening the dark marks often developed during pregnancy.
Where to Buy
Want to try the reasonably priced Bella B skin care line for yourself? You can purchase directly from their online site (linked above).