Skin Fitness Plus: Interview with Dr. Julia Tatum Hunter
With the onset of spring quickly turning into summer, people are eyeing bottled bronzers more and more in an effort to get the gorgeous tan they want without the harmful effects of the sun. For people looking for radiant, healthy skin,however, the answer may not be in the bottle. Chemical self-tanners, tanning lotions, and bronzers may cause infamation and premature aging of the skin that leads to anything but healthy skin.
Julia Tatum Hunter, M.D, dermatologist and founder of the Skin Fitness Plus Program, gives the downside of chemical tanning products along with incredible tips on having beautiful, healthy skin in this LoveToKnow Skin Care Expert Interview.
About Dr. Hunter
LoveToKnow (LTK): Dr. Hunter, Please tell us a bit about yourself. How did you become interested in dermatology and skin care?
Julia Tatum Hunter, M.D. (JTH): I was first fascinated by the European-trained estheticians my parents took me to as a teen to prevent acne. They knew more about skin anatomy, physiology, the influence of nutrition and product ingredient biochemistry than anyone I've encountered in medical training. In my office, my excellent medical estheticians are equal members of my treatment team and continue to teach me. As I pursued my dermatology quest and knowledge, I mentored with skin care practitioners in many specialties - oriental, ayurvedic, as well as plastic surgeons. I initially chose Anesthesiology because I am an action person who first asks, "Why is 'there a problem"… then let's cure it, not just treat the symptoms or talk about it.
Being an Anesthesiologist for plastic surgeons propelled me to retrain because I wanted to prevent the brown spots, abnormal veins, skin cancers, thinning skin, surgical scars and asymmetry I saw. An ounce of prevention is worth a pound of cure. I knew patients' skin needed to be cleared, clarified and rejuvenated and restored - prior to any surgery so they healed faster, got a better result and had longevity of result. I wanted patients to also know that they had excellent non-surgical and prevention options that achieved the goals and provided the results they sought and with no downtime.
I always believed in educating and communication with patients so they understood the overview of their choices, then could equally participate in choosing the solution which best fit their lifestyle, desires and goals. I knew cure and prevention meant addressing all the pieces of the body's puzzle, first assuring internally the body had all the raw materials it needs - healthy and tasty nutrition, correct supplements and hormones, to produce a "young at any age" product. I wanted the nontoxic, scientifically and physiologically correct, affordable and do-able roadmap to skin beauty and wellness. This journey led me to ultimately create my practice, Skin Fitness Plus.
Dangers of Chemical Tanning Products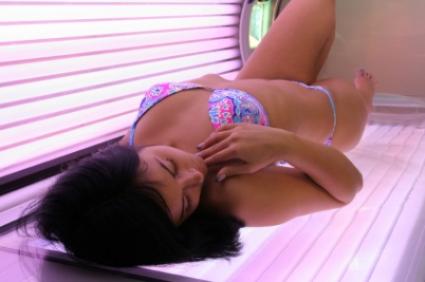 LTK: Many people are under the impression that chemical sprays and self-tanning lotions are a safe alternative to tanning in the sun or in tanning beds. Your research, however, shows otherwise. What exactly are the dangers or problems associated with sunless tanning products?
JTH: Though chemical sprays and self-tanning lotions might seem safer than subjecting your body to UVB and UVA rays which inflame and damage even down to the DNA, they contain harmful chemicals, which at best inflame and speed up the aging process and at worst also damage down to the DNA and cause disease and cancer.
They contain harmful ingredients such as parabens, synthetic propylene glycol, dihydroxyacetone, dimethicone, mineral oil, triethanolamine and more. All these ingredients cause inflammation which results in disease and aging, premature aging, clogged pores - causing white and blackheads and acne, brown spots and abnormal veins and rosacea and enlarged pores. No one knows if these are safer than lying in the sun and subjecting your skin to radiation.
About the Skin Fitness Plus Program: Holistic Beauty
LTK: Many people tan or use sunless tanning products to have a "healthy" glow or hide imperfections of the skin. Your treatments offer beneficial ways to restore the skin instead. Can you briefly describe how your cosmeceuticals and nutritional supplementation helps achieve flawless skin?
JTH: From health comes beauty! Chemically correct skin care products, containing non-inflammatory ingredients the body needs is missing, and can recognize and utilize, in therapeutic concentrations, bind to the skin cell's receptors and therefore visibly and microscopically make a difference in stimulating new collagen and cell growth. Many products on the market are just advertising and packaging and have $3-5.50 of ingredients, no matter how high the price. They generally just sit on the surface of the skin where there is nothing but dead skin cells or inflame it with toxic ingredients.
Needed nutritional supplementation, which provides the body with fuel-nutrients we do not or cannot obtain from our diet no matter how fresh and healthy, and correctly administered bio-identical hormones if missing, to replace and re-balance as we age and wear down, support the body's physiological processes and create health, energy, immune function and overall well-being. The skin is the largest organ of the body and the most reflective of inner health - which results in the skin naturally radiating a flawless glow. Health and beauty are a result of addressing all the pieces of the body's physiological puzzle.
LTK: Your Skin Fitness Program treats the skin both externally and internally and offers an integrated approach to skin care that first provides the right foundation for the skin with essential nutrients and proper skin care products, and then works to correct, reverse, and prevent damage. Why is it so important that all of these steps are taken?
JTH: All the pieces of the puzzle create Integrated Aesthetics. That is the methodology by which I practice the physiologically correct and healthful approach to skin and body care. The skin is not separate from the body. It is an essential organ of the body and must be treated as such. The Skin Fitness Plus Paradigm of Treatment is the science of skin care using anatomy, physiologically correct, synergistic laser technology, chirally and chemically correct, pharmaceutical nutraceuticals - stimulating, not wounding, targeted supplementation, and bio-identical hormones.
As skin inflammation is the number one cause of disease, aging and skin pathology, found to be a primary cause of disease in the body causing heart disease and cancer and has damaging effects to the skin as well. Most people are not aware that the ingredients of most skin products and makeup can cause serious inflammation thus disease and aging.
My Paradigm of Treatment is a step-by-step procedure that utilizes products and makeup that are non-inflammatory, therapeutic, missing and necessary, which is the only way to correct, reverse, and prevent damage from sun, disease and pollutants, diet, wear and tear, and everyday stress. By treating patients internally as well as externally for these inflammatory problems, we can cure the problem vs. just treating the symptoms, providing healthful and beautifying results.
Thermage: A New Revolution in Anti-Aging
LTK: You also offer Thermage, one of the newest and most effective technologies in anti-aging and repairing skin. How is this procedure more effective than standard laser treatments?
Thermage® is the revolutionary procedure that targets collagen and skin laxity caused by the effects of gravity, aging, wear and tear, weight change and cellulite in all areas of the body. With the use of radio frequency technology that requires no incisions, no downtime, as the ThermaCool™ system delivers heat to the deepest layers, tightening and lifting the skin, causing new mainframe collagen production. Standard laser treatments can penetrate down to more peripheral layers of the dermis.
Thermage goes down to the deepest layer and therefore has the strongest impact on cell and collagen production. But Thermage, or any laser treatment does not work alone. We prescribe an individualized Action Plan for each patient, which supports all procedures and treatments prescribed at Skin Fitness Plus. The Action Plan develops a road map for prescribed treatments and procedures which includes skin products, diet, supplements and bio-identical hormones required to achieve and personify the patients' goals by scientifically creating healthy, beautiful skin. The duration of results is impacted by the patients' cohesive support of this dedicated plan.
Expert Skin Care Tips from Dr. Hunter
LTK: If you were to give one piece of skin care advice to our reader that would help them dramatically improve their skin, what would it be?
"A Complicated Ballet"
JTH: I embrace educating my patients about all the options and solutions to the goals they and we all pursue - prevention, rejuvenation, cure. In medicine there is often no absolute right or wrong treatment decision, black or white, rather shades of gray. My belief is from experience that we have to see the forest, not just the trees, the whole body and the intricate interrelationship of all its parts - the organ systems. It's a complicated ballet and without all the organs working in a robust manner, nothing works well. Everything begins from health, prescribing products and techniques that revitalize the body from the inside out as well as rejuvenate. That's as close as physicians can come to mimicking nature and curing aging.
Love the Skin You're In, at Any Age
JTH: Time and the clock are still ticking onward even as we try to slow it down as much as scientifically possible. As long as your heart is beating I can significantly turn back and reset the clock… but it takes time. Sadly there is no instant magic wand. The body doesn't work like that. It works in cycles of time, which it requires to rejuvenate and repair - wrinkles, pores, pigment - working with cells and hormones, which are not at peak function. All can be dramatically improved - you can be young at any age - energetic, healthy, have a sharp brain, great mood and be beautiful. Part of achieving that worthwhile goal is getting "right with yourself" and learning to love yourself at every age. Life is what YOU make it!
Thank You, Dr. Hunter!
LoveToKnow would like to extend tremendous thanks to Julia Tatum Hunter, M.D. for taking time out of her busy schedule to answer our questions and offer helpful tips and advice for our readers. Please visit her website, Skin Fitness Plus, for more on how you can achieve the healthy, radiant skin you've always dreamed of.
Julia Tatum Hunter, M.D.
SKIN FITNESSPLUS
9730 Wilshire Blvd. Suite 201
Beverly Hills Ca. 90212
310.247.8744